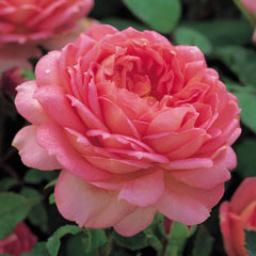 Jubilee Celebration (bareroot)
Regular price $32.00 Sale
Available for pick-up mid-Jan. Any order for bareroot not picked up within 1 week will be potted and returned to available inventory. 
Jubilee Celebration gifts large, domed flowers in a lovely rich salmon-pink with tints of gold on the underside of the petals. Each bloom being elegantly held well above the foliage. Despite the size of the flowers, they are produced with exceptional freedom and continuity. There is a deliciously fruity rose scent with hints of fresh lemon and raspberry. The growth is vigorous; building up into a fine shrub. It is very healthy.
David Austin named this rose in commemoration of the Queen's Golden Jubilee.
4x4ft.