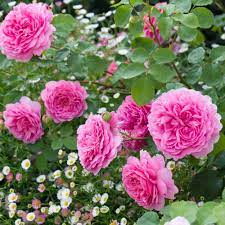 Princess Alexandra of Kent (bareroot)
Regular price $32.00 Sale
Available for pick-up mid-Jan. Any order for bareroot not picked up within 1 week will be potted and returned to available inventory. 
PRINCESS ALEXANDRA OF KENT
(Ausmerchant)
English Shrub Rose Bred By David Austin
 BEST FOR FLOWERING
 BEST FOR FRAGRANCE
Flowering:
Repeat Flowering
Size:

 

Large Shrub
 

5ft

 
 

4ft
The unusually large, bright pink flowers are full-petalled and deeply cupped. In spite of their size, they are never clumsy, being held nicely poised on a well-rounded shrub. 
 Mixed Border
 Pots & Containers
 Rose Hedges
 Shady Areas
 Cutting