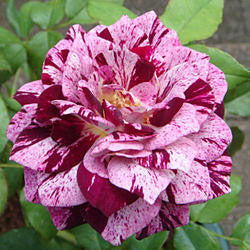 Purple Tiger
Regular price $20.00 Sale
Heavenly old-rose fragrance fills garden and vase!
The ideal rose for just about anywhere in the garden or container, 'Purple Tiger' is a charmer with a powerful old-rose fragrance, eye-catching purple-and-white blooms, and a neat, compact habit. Whether you place it front and center in an accent planting, line it along the front of the rose border, or set it in a fine pot on the patio, 'Purple Tiger' will steal the show all summer long!
This floribunda takes its job of flowering very seriously, beginning with the first hint of summer heat and continuing until the autumn air is chilly. It blooms in waves, with large clusters of fat, pointed buds arising every few weeks all summer long. You will seldom be out of bloom (or scent!) with 'Purple Tiger' on the prowl!
Each flower is fully double, packed with up to 40 petals, and high-centered, opening slowly with elegantly recurved petal tips and a different pattern of purple, mauve, and white on every bloom. The magnificent antique-rose scent will carry you back to the rose gardens of your childhood, and will dominate surrounding fragrances in the garden effortlessly.
Bred by noted rosarian Jack Christensen in 1991, 'Purple Tiger' has an interesting parentage. The seed parent is 'Intrigue,' the classic Bill Warriner floribunda. The pollen parent is a miniature rose, the delightful Pinstripe™ from Ralph S. Moore. With these ancestors, you might expect 'Purple Tiger' to be compact, and it is: this shrub reaches only 30 inches high, and spreads anywhere from 18 to 24 inches wide. Small enough for your best containers, but large enough to make a big impact in any setting!
Bareroots will be available for pick up in late January - early February.