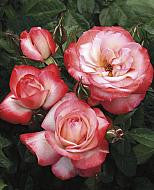 Coretta Scott King
Regular price $38.95 Sale
Named after Martin Luther King, Jr.'s wife, this beautiful Grandiflora has a moderate fragrance and beautiful blooms. Elegant pointed buds and deep green foliage.  
Buds of cream begin to 'frost' with blushes of corally dark red orange as they spiral open. But this one doesn't melt in your hands, it holds on to the plant for a great display of color and flower power...big clusters held high for all to see. Very good disease resistance means her 'wrapper' of green stays handsome in the garden for a full season of scrumptiousness.
Moonstone x Hot Cocoa
Introduced in 2013.
Tall habit.