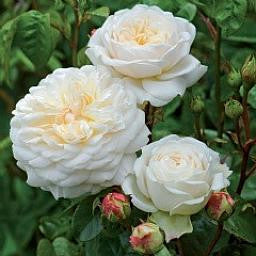 Tranquility (bareroot)
Regular price $32.00 Sale
Available for pick-up mid-Jan. Any order for bareroot not picked up within 1 week will be potted and returned to available inventory. 
TRANQUILLITY
(Ausnoble)
English Shrub Rose Bred By David Austin
Flowering:
Repeat Flowering
Size:

 

Medium Shrub
 

4ft

 
 

4ft
Beautifully rounded flowers, with neatly placed petals making up perfect rosettes. The buds are lightly tinged with yellow but as the flowers open they become pure white.