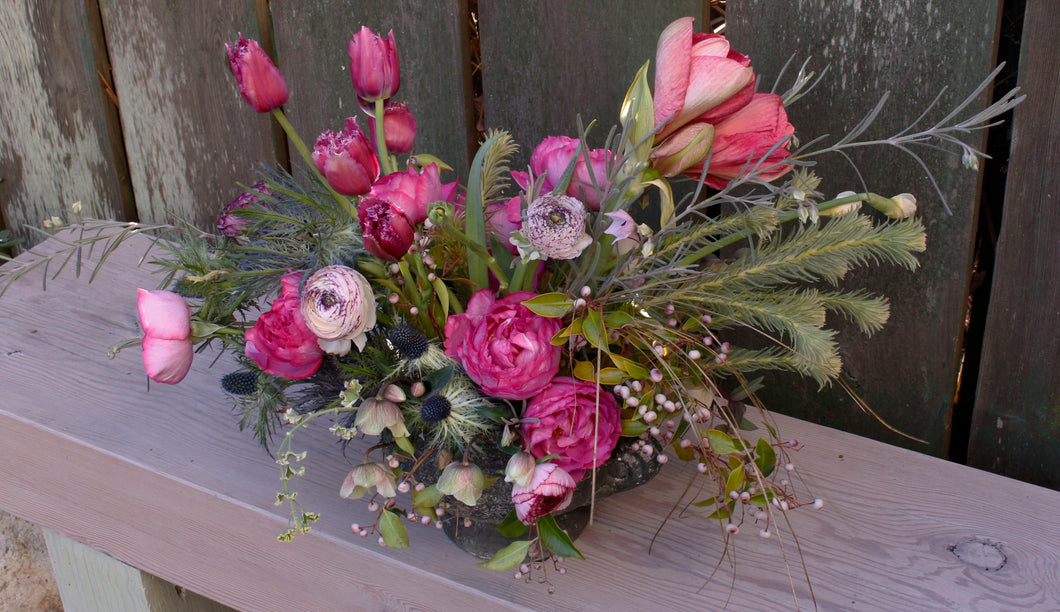 DESIGN & GROW WORKSHOP
Regular price $159.00 Sale
Guest Designer: 7PETALS DESIGN
Sunday, May 20, 2018 / Time 10:00 AM – 1:30 PM / Fee $159
Bring: Container of your choice and Pruners

You can order a low-cost container from MaryAnn by emailing her at maryannnardo@sbcglobal.net.

Join Maryann Nardo of 7Petals Design for this destination workshop on the beautiful grounds of Garden Valley Ranch in Petaluma at the height of the rose season! Our workspace is in the covered gazebo with full view of the rose fields.  
Design!
The focus will be on making a low, wide compote arrangement in a vase with a stemmed or pedestal base using a chicken wire infrastructure with an assortment of Garden Valley Ranch's gorgeous fresh cut roses, other flowers and great foliage additions.  The workshop will include all flowers, supplies (except bring a container of your choice) and light refreshments. (Pruners are available if you leave your favorite pair at home.)
Grow!
Garden Valley Ranch specializes in amazing, open rose varieties including David Austin and heritage varieties.  Garden Valley Ranch grows over 6,000 roses in open fields and no greenhouses. Sibling owners Jessica and Justin Yau purchased the beautiful rose farm in mid-2017 and have been revitalizing the property ever since!  Embracing a more natural philosophy to growing flowers, they have already gone pesticide-free, so please feel free to smell the roses!  Join owner Jessica Yau on a short tour as she tells their story and talks about their endeavors to convert growing practices to bio-sustainable, environmentally-minded and bee-friendly methods. Ask rose-growing questions and if so moved, rose plants will be for sale. 
A maximum of 10 people for this workshop to preserve your experience and allow for ample interaction with the instructor.
Last day for sign up:  May 15, 2018
See cancellation policy below.
About 7Petals Design and Maryann Nardo
Maryann Nardo is owner of 7petals Design, a floral studio in San Rafael. She specializes in garden inspired, lush and inventive flowers and floral decor. A number of years ago a life changing event changed the way she worked with flowers, from making paintings of them to composing with real flowers. Her background in fine art and interior design contribute as much as her studies with the Little Flower School in Brooklyn, NY.
For the past several years.  Maryann has offered a popular series of Floral Design Workshops out of 7petals Design Studio and College of Marin.  Last year, she began to take her workshops on the road for a Design/Grow Series connecting those who love to practice the art and craft of floral design (or those who just want an afternoon of floral fun!) with the incredible flower growers of the Bay Area.  She is a member of the Slow Flowers Movement, a Made in the USA movement to grow, buy and use locally grown flowers.
Cancellations:  Sorry, no refunds, transfers or exchanges available for this workshop.  Each workshop is unique, so we hope you can make it!