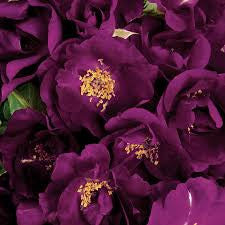 Night Owl
Regular price $38.95 Sale
Beauty meets practicality with this disease resistant climber.
A Rose to treasure for decades, this midnight-purple version of the classic R. 'Sally Holmes' offers distinctive color, strong scent, exceptional disease resistance, and tireless reblooms. A 2007 Tom Carruth introduction, it is utterly unique.
The flowers are a deep, rich violet, nearly black, with 8 to 10 petals each and a central boss of bright yellow. Arising quickly and remaining a long, long time on 10- to 14-foot plants, they are fade-proof in even the hottest climates, and release a strong, spicy clove-like scent that perfumes the entire garden. Night Owl™ flowers in waves all summer long, one of the most dependable reblooming climbers we have ever seen.
Exceptional disease resistance makes much of this floriferousness possible. The foliage is healthy and profuse, making a fine show even when out of bloom on trellises and pergolas. Zones 5-9.