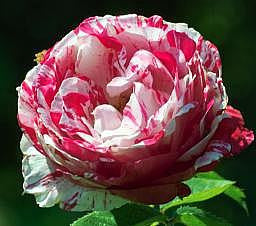 Scentimental (36" tree)
Regular price $58.95 Sale
If you're new to gardening, 1997 All-American Rose Selections-winner, Scentimental™, is an excellent first rose to grow. Very long-blooming, it is much more tolerant of adverse conditions than most, blooming freely all summer. And such blooms! No two are just alike, and all are beautiful, with very unusual burgundy stripes and splashes on crisp white petals. Unbeatable for scent, color, and garden performance!
This Tom Carruth hybrid boasts big blooms, 4 inches across and sporting a petal count of 25 to 35. High-centered and beautifully held against dark green foliage, these flowers are pretty and symmetrical enough for exhibition, yet very easy to grow!
Scentimental™ is very tolerant of extreme heat, humidity, and even urban pollution. Great disease resistance keeps its foliage looking good even when it's not in bloom, making this floribunda a fine choice for the front yard, foundation plantings, and accents. Bred from R. Playboy x R. Peppermint Twist, Scentimental™ is a fragrance lover's dream and a bold, distinctive rose that may quickly become your favorite!